Introducing AutoCAD 2019 – Now With More Toolsets
By David Cohn
On March 22, Autodesk unveiled AutoCAD 2019, the 33rd version of its flagship product.
Although AutoCAD 2019 includes several new features, the big news is that every subscription to AutoCAD now bundles seven additional "specialized toolsets" into what the company is referring to as "One AutoCAD." Essentially, the vertical products formerly sold separately as AutoCAD Architecture, AutoCAD Electrical, AutoCAD Map 3D, AutoCAD Mechanical, AutoCAD MEP, AutoCAD Plant 3D, and AutoCAD Raster Design are now included in the single subscription price. Users will still have to download and install each of the additional "toolsets" separately—there is no unified install—and the price represents an increase of $10 per month or $100 per year over what AutoCAD itself cost in years past. But, when you consider that many of those vertical products were previously priced at $100 or more per month than the cost of AutoCAD alone, the new One AutoCAD is likely to be a hit.
In addition, a subscription to AutoCAD 2019 also includes free access to a new AutoCAD Web App and an AutoCAD Mobile App. AutoCAD 2019 includes a new feature called Save to Web and Mobile, which helps to enable a seamless workflow across all devices. The new feature lets you save drawings to the cloud, and then open them in a web browser or on a mobile device. AutoCAD now includes two new commands—Save to Web and Mobile and Open from Web and Mobile—accessible from both the Quick Access Toolbar and the Application menu. The first time you use either of these commands, you will be prompted to install the Save to Web and Mobile Extension. Once it has been installed, you will have the option of making desktop files available to the AutoCAD web and mobile apps.
In addition to AutoCAD itself, AutoCAD 2019 includes seven specialized toolsets, plus web and mobile apps.
The new web and mobile apps are not just updates to the older AutoCAD WS or AutoCAD 360 apps. Rather, they are entirely new programs powered by the same underlying engine as the Windows version of AutoCAD. So, you can work on drawings in a browser or on a mobile device wherever you have an internet connection. The AutoCAD Web App is essentially a full version of AutoCAD running in a browser. Any changes you make while working in the field using the web or mobile app are saved to the cloud-based version of the drawing. When you reopen that version of the drawing in your desktop copy of AutoCAD 2019, your changes are displayed, but you will have to overwrite the local version of the drawing if you want those changes to be saved locally.
The AutoCAD mobile app lets you open and edit any drawing file saved to the cloud.
A New Look
In addition to One AutoCAD and the new apps, there are multiple enhancements and new features in AutoCAD 2019, although perhaps not as many as in years past. In addition, many of the new 2019 features actually appeared in the 2018.1 incremental release.
One of the first things you will notice is a subtle change to the user interface. As part of its efforts to update AutoCAD so that it looks good at both 2K (1080) and 4K (2160) resolutions, the program uses new, simplified "flat" icons that are easier to identify. The program automatically loads the icon set appropriate for your display resolution. This visual simplification also extends to the Status bar, where blue button backgrounds make it much easier to determine when a particular setting is toggled on.
The Drawing Compare Tools
Perhaps the most significant of all the new commands is a collection of new Drawing Compare tools that enable you to easily identify graphical differences between two versions of any drawing. While similar tools were already available in some vertical flavors of AutoCAD—such as AutoCAD Architecture—they are now part of AutoCAD itself.
You can start a drawing comparison from the Application menu or the Collaborate ribbon. After selecting the two drawings you want to compare, the program analyzes them and displays the results as a new drawing, with three categories of objects highlighted: those located only in the first drawing, those located only in the second drawing, and those that are identical in both drawings. You can then use tools in a contextual ribbon to adjust the comparison display by swapping the order of the drawings, moving either to the foreground, toggling the display of either drawing, changing comparison color settings, and so on.
The new Drawing Compare tool enables you to easily identify graphical differences between two versions of any drawing.
Other tools let you include or exclude text and hatch objects from the comparison results. But by far, the standout feature of the new Drawing Compare tool is the ability to automatically place revision clouds around changes and control how the program creates and displays those revision clouds.
Safely Sharing Designs
The new Shared Views feature in AutoCAD 2019 makes it easier for you to share your designs with others without releasing your original drawing files. This feature is intended to replace the commonly-used workflow of publishing DWF or PDF files and then emailing them. Instead, views and data are extracted from the drawing and stored in the cloud. You can then send a shareable link, which allows the design to be viewed in a browser and commented on from any web-enabled desktop, tablet, or mobile device.
Recipients of the link can view, measure, comment, and mark up the design and share their feedback with you. An email is sent to you whenever someone comments on the shared view. You can then view and reply to comments, and manage your shared view using tools in a new Shared Views palette. Shared views automatically expire after 30 days, but you can extend or terminate the link at any time.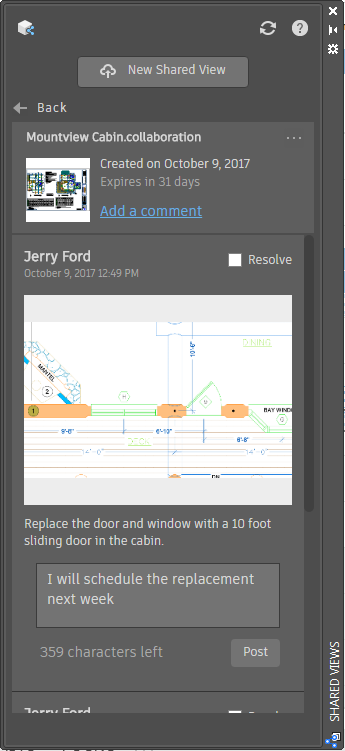 You can expand any view in the Shared Views palette to read or post comments and reply to comments received from others with whom you have shared views.
Other Enhancements
AutoCAD 2019 also includes enhancements that make it easier to create and work with named views. The ability to create named views has long existed in AutoCAD, and they make it much easier to navigate drawings. The big news here is that you can now quickly create named views and place them as paper space viewports by selecting any named view from a gallery. The program automatically applies an appropriate scale, resizes the viewport, and locks it, essentially reducing a multi-step process to a few simple clicks. Viewport grip enhancements then make it very easy to move and resize viewports, and a new triangular grip lets you quickly change the viewport scale.
AutoCAD 2019 makes it easy to insert a named view onto a paper space layout.
The Layer Property Manager has also been improved to make it much easier to identify and control overrides to layer properties. For example, a new status icon indicates when an Xref layer or viewport layer contains overrides. When you pause the cursor over a layer that includes an override, a tooltip appears that lists all those overrides. In addition, you can apply a background color to layers and properties that have been overridden, and even assign different background colors to identify whether the override has been applied to a layer in the host drawing or to an external reference. You can then filter layers based on overrides and use tools in right-click menus to reset any or all layer properties back to their original values. Other improvements to layer settings make it easier to control Xref layer properties.
Improvements to the Layer Properties Manager make it easier to identify and reset layer property overrides.
Beyond these obvious changes, the program's performance has been improved. Operations that require AutoCAD to redraw or regenerate 2D graphics have been streamlined, resulting in significantly faster execution. Navigation when working in 3D has also been enhanced. What's more, all the improvements and new features—UI changes, web and mobile apps, 4K display support, Drawing Compare, Shared Views, and so on—are includes in AutoCAD LT 2019 as well.
After more than 35 years, AutoCAD remains the world's leading CAD program. While not as extensive a list as in years past, the improvements made to this, its 33rd release, set the stage for many years to come.